Intrepid Studios has an awesome referral program where you can refer your friends and you'll receive 15% of any ongoing account purchases back as Intrepid Bucks!*
*This only applies to purchases made with an applicable payment method; purchases redeemed using Intrepid Bucks are not eligible.
What can you do with Intrepid Bucks?
Intrepid Bucks earned through our referral program can be used to purchase Embers (which can then be used to purchase in-game items from the cosmetic store) reduce subscription costs, and obtain cash rewards on a quarterly basis after Ashes of Creation has launched.
Two ways to refer your friends
Your personal Referral Code can be found on your Account Management Dashboard under Referrals - Then you can give that code to your friends to redeem it when they register a new account.
You can also use your referral link, which your friends can use to register an account. Here's a handy guide for your friends to learn how to use your referral code.
What information can I see on my referral page?
Right now, you'll see the referral bonus rate, the status of your code, the total amount of referrals on your account, and your referral link. In the future, we plan on showing the amount of Intrepid Bucks you've earned and your specific referrals.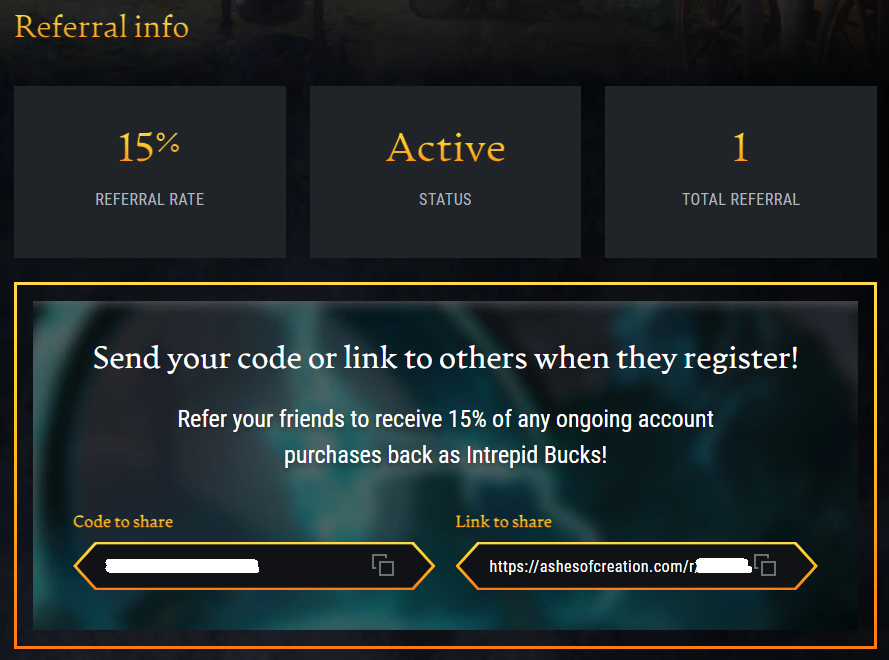 Still need help? Open a support ticket here so our support team can assist you.