I do not have a pre-order or Kickstarter package
First you will need to create an Intrepid account here, or sign into your existing account here. Once you are logged into your account, you can browse the Shop for pre-order packages or other available items. Each option will display a picture of the contents of the package. You can also click on "More Info" to see a detailed breakdown of the contents.
If you add an item to your cart without first signing into your account, you will be prompted to sign in when you try to check out.
If you have added an item to your cart prior to signing in, and that item is not available for your account, it will automatically be removed from your cart.
I have a pre-order, Kickstarter, or Summer package
If you have already purchased a package, when you sign in to your account, the Shop will automatically update to show the upgrade options and cosmetic add-on items available to you. If you would like to upgrade your package, you will only pay the difference in price between your current package and the upgraded package. To help you better understand what each package includes, we have a list of Pre-order and Kickstarter/Summer packages.
Kickstarter and Summer packages were only available for a limited time. Currently, only Pre-order Packages are available to purchase.
I just want to buy cosmetic add-ons
There are 6 categories of cosmetic items (listed below). In order to purchase any of the cosmetic add-on items, you must first own a package which includes that cosmetic category of item. Your Pre-Order Package level will determine which categories you have access to. Kickstarter and Summer backers are always able to purchase all 6 categories of items, regardless of tier.
Pricing:

Accessory: $5
Pet: $15
Mount: $20
Character costume: $25
Transport skin: $25
Freehold skin: $25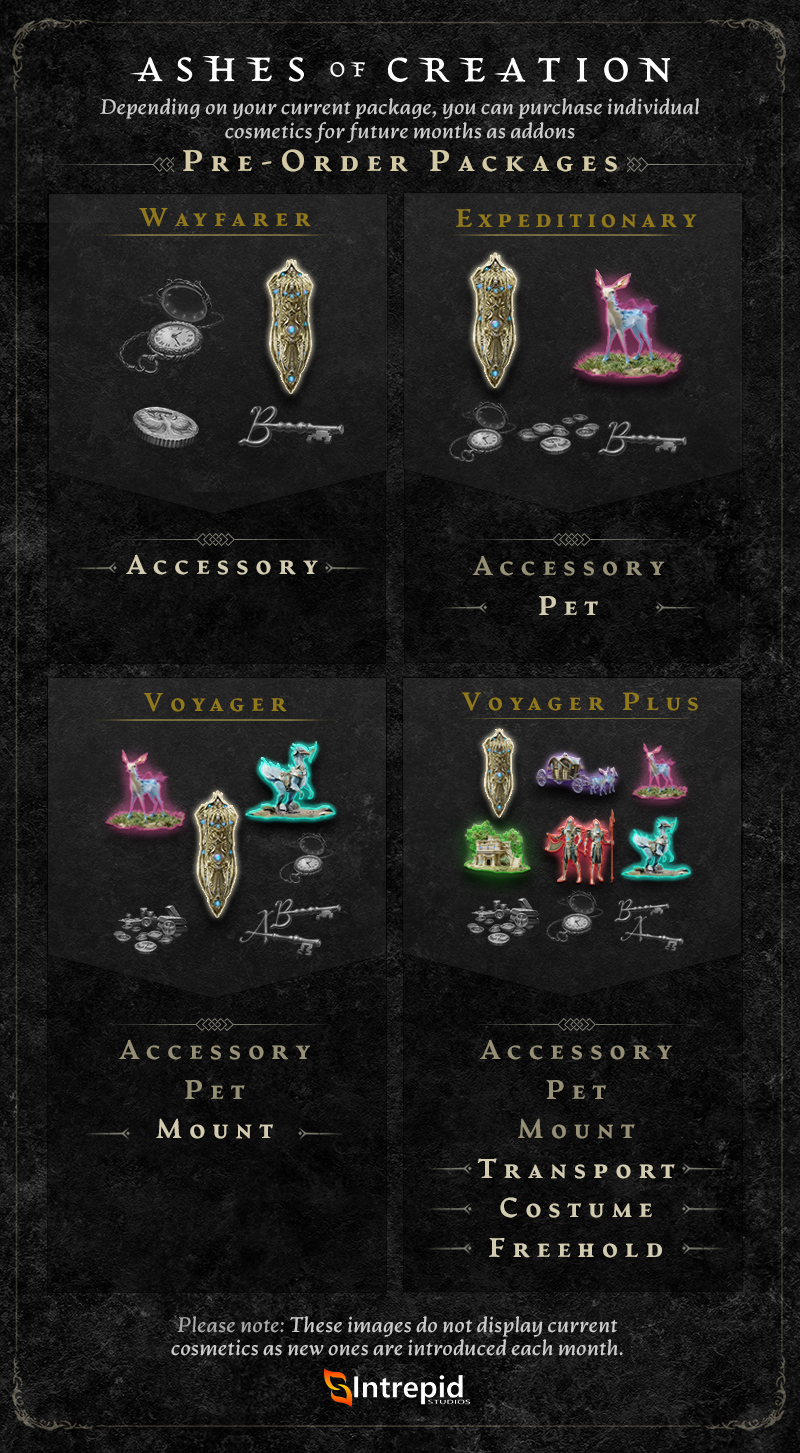 I want to buy past cosmetic items
The cosmetic add-on items are only available for a limited time. Once an item is gone from the Shop, it is no longer available. You can view a list of the previous cosmetic items for 2019, 2020, 2021, 2022, and 2023.
If you upgrade your package and that upgrade includes additional cosmetic items, those additional cosmetic items will be from the current set. For example, if you previously purchased a Wayfarer Pre-Order Package (which includes the Accessory cosmetic), and you upgraded to the Voyager Pre-Order Package, you would keep your existing Accessory item and gain the Pet and Mount from the current set.